Good morning beauties,
it's only gone and arrived - Friday, I love you.
Check ooooout the Christmas tree that appeared outside my office this morning....
It doesn't look so impressive in the photo (shoddy berry camera you see!), but it's absolutely beautiful and was a nice surprise at 7am. You might even say it made my morning, along with the fact that I am snuggled up at my desk with a cuppa, hot water bottle, and a blanket, reading my favourite blogs... I love my job sometimes *grins*.
So despite not really fancying Christmas this year (if anyone wants to wisk me away for a couple of days, feel free), I do appreciate a nice Christmas tree at least :)
Right then, enough blabbering, down to business. Last night I trialed the new Charles Worthington Salon at Home Strength and Repair kit, it retails at £19.99 and is available
here
What Charles Worthington say...
Restore dry, damaged and fragile hair with this salon-inspired hair repair treatment. Enriched with our unique Renovoil Complex™, it is scientifically proven to strengthen hair and reduce breakage by 93%, giving you stunningly silky hair, all from the comfort of your own home
suitable for all hair types and colours

apply treatment once a week for maximum results
The kit comes in 3 seperate steps, at first I though, flippin heck, effort. But it was actually really quick and simple.
Step 1) Hair repair oil.
This is for really dry hair, so I applied it about halfway down my hair and mostly on the tips. It comes in a pump bottle which means there is no mess, wonderful :)
All you need to do dipsense a couple of pumps into the palm of your hand and work through your hair.

It doesnt actually say anywhere how much oil to apply, so I just guessed. I put in about a palm full for each side of my hair. I think this was too much, I found it hard to wash out thoroughly, and as I was in a rush I don't think I washed it out as best I could have.
Then you put on one of the plastic hair caps (5 provided) to "accelerate the penetration of oils deep into your hair cuticles".
The cap is meant to steam up, mine didn't, I dont know why. If anyone knows what I did wrong, please let me know.
You leave this on for 10 minutes and then rinse it off. As I said before, it is difficult to rinse out, but I think that's just because I used to much.
Even after this first step, I could already feel a considerable difference in the way my hair felt.
step 2)
Strenght and Repair Shampoo
Just like a normal shampoo, lather and rinse. This smells divine. I always use Charles Worthington Take Aways when I go on holiday or trips, so this smell reminds me of sunshine, beaut. It leaves ure hair feeling squeeky clean too. By this point, I have to say, I didn't really feel a massive need for the next step, my hair already felt super duper soft and silky.
Step 3) Intensive Hair repair Masque
This masque is applied to wet hair, and left for 5 minutes before rinsing thoroughly. The texture of this masque is lovely, I don't know how to describe it, its almost like a very gentle face moisturiser, light and whippy (that sounds weird). This also smells gorgeous.
The whole process takes a little under half an hour really, although I suppose you can leave the products on longer or shorter if you wish.
Would I recommend this product?
I know some of you may think it's a little expensive for a home treatment, but never fear. I used what I thought was a rather generous amount on my hair, and I have barely used up any of the product. My guess is that you could easily get about 15 or so applications out of this kit, and thats if your hair is long, so possibly more if you have shorer hair and are using less of the product. Good news :)
Last time I paid a visit to my hairdresser, I had a deep conditioning oil treatment that wacked £10 onto my bill, and while this is very reasonable, why pay £10 per treatment when you can do it yourself and it can work out at about a pound per treatment?!
I am actually really impressed with the results today, my hair feels so smooth and healthy. The ends look healthier too. The only thing is that I didn't rinse the products out as thoroughly as I should have, so the ends of my hair feel a little sticky. Other than that, I have no complaints about this kit, 10/10, top marks and I will

definitely

be purchasing this when it runs out. Great for girls nights in, don't you think :)
Have any of you tried this product or a similar "salon at home" product? What did you think?
Has anyone tried the other 2 products from this range?
Straight and Smooth and Shine Booster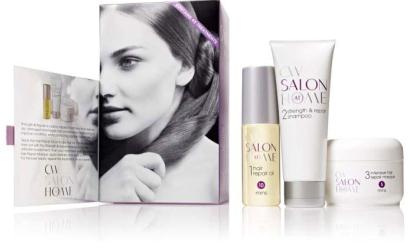 Hope you all have a smashing bonfire weekend, tata for now beauties
p.s Chanel have launched their new Christmas collection, I am going to take a peek later, have any of you seen it yet? People seem to be raving about it on Twitter.
#I was sent this products to review. However all opinions expressed are my own, honest :)